Born into a family that valued spirituality and the more esoteric qualities of life, Sandra was initiated onto the path of deep inquiry into the nature of the self and consciousness at a very early age. She was born with the abilities to see and feel other people's energies and emotions, and sense the more subtle forms of energy beyond the physical world.
A crusader for truth and champion for inhabiting our most authentic selves', Sandra guides her clients into deeper communion with their own essence. She teaches them the tools and resources to self-heal so they can fortify the ground for their purpose and work in the world.
Through her work, Sandra strives to contribute to the collective tapestry and nurture community spaces that value witnessing the unfolding of each other's intrinsic brilliance. She is fiercely committed to supporting an initiative of global awakening for the common good and creating a space of supportive awareness that assists the process of self-realization and journey towards self-love, radical self-acceptance, and empowerment.
At age 16, she began to offer spiritual guidance to other individuals who felt disconnected from their true self and purpose. This led to her becoming internationally recognized as a gifted intuitive and an advocate for highly sensitive individuals across several television networks.
As a Transformational Coach, Intuitive Mentor, and certified integrative healer, she has more than 13 years' experience working with a diverse client base.  She has a Master's Degree in Mindfulness-based Transpersonal Counseling Psychology and dual Bachelor's Degrees in Somatic Psychology and Psychology of Health and Healing.
Her approach has been forged through rigorous study of the merging between mind, body, spirit, and hard science, a deep passion for healing and growth, and the application of therapeutic modalities, healing arts, and spiritual traditions.
Through her private work with clients as well as workshop facilitation, she empowers her clients to excavate what is no longer serving them, own the wisdom within their challenges, and transform their fear and overwhelm so they can actualize the highest vision for their lives.
She helps her clients illuminate underlying behaviors, habitual patterns, and mindsets that are contributing to the misalignment in their lives and preventing them from actualizing their highest potential. She supports them in making crucial shifts in their awareness so that they develop healthier lifestyles, cultivate a greater resilience to navigate the trials of daily life, and realize their meaningful visions and goals. She wholeheartedly believes that our challenges are incredible pearls of wisdom just waiting to be discovered.
Internationally recognized for her intuitive gifts, she has appeared on Anderson Cooper 360, Psychic Children: Their Sixth Sense, Good Morning America, and The Doctors. A published writer, her articles have appeared on Elephant Journal and About Meditation.​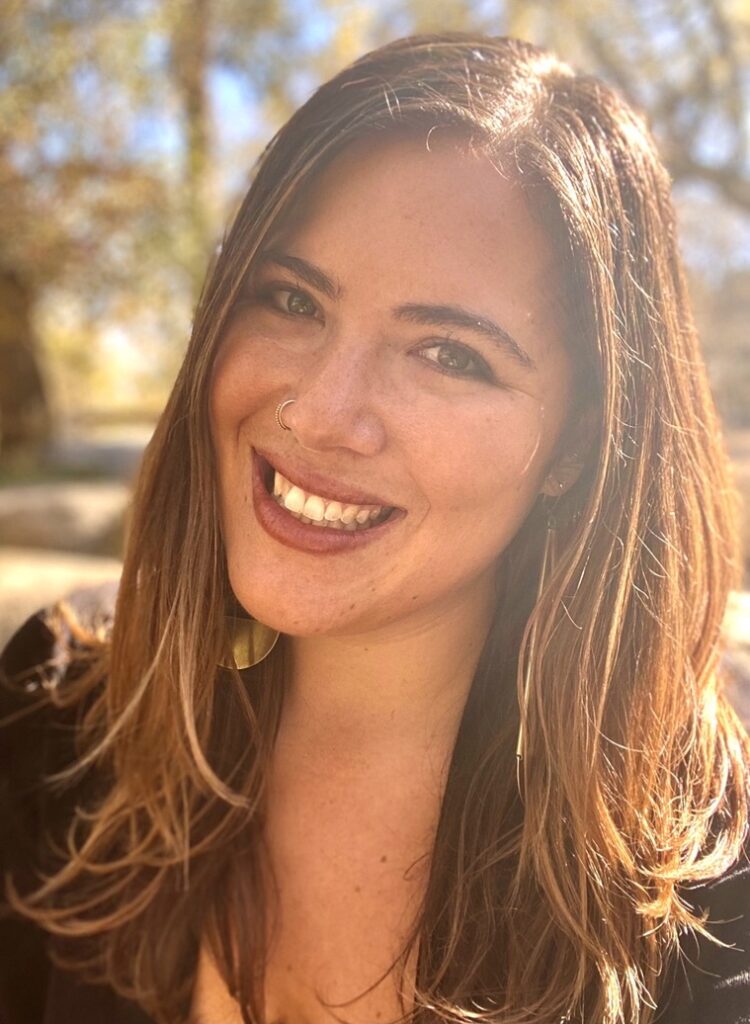 Transformational Coach, Intuitive Mentor, and Awakening Facilitator
"When we live our life as an act of devotion, surrendering to nothing but our highest truth, the majesty of life unfolds before us."
Qualifications and Experience:
Naropa University, Boulder, CO – M.A. Mindfulness-Based Transpersonal Counseling Psychology
Naropa University, Boulder, CO – B.A., Dual major – Somatic Psychology and the Psychology of Health and Healing
Introduction to Synergetic Play Therapy™ Certification
Vibrational Healing Sounds Intensive® Certification
Usui Reiki, Level II
Theta Healing Certification, Level II
IRECA Level II (Integrative Healing Method)
Soul of Leadership Training, Facilitated by Nisha Moodley
WINC Business Development and Marketing Training
Shambhala Meditation, Training Level III
Internal Family Systems Workshop (Somatic Psychology Techniques)
Hanna Somatics (Somatic Movement Based Therapy)
Shamanic Healing Vision Seeker Workshop, Level 1
Spring Forest Qi Gong, Level II
"Our human experience is not meant to be one of insignificance and mediocrity. We are meant to fill up the space when we enter a room. Our presence and words are meant to be drunk in and tasted by those who love us most dearly. We each have a unique story, a treasure trove of wisdom woven seamlessly within the depths of our personal history. It is our duty to share ourselves fully, to become perfectly cracked and honed as the living sculpture of our greatest suffering and most profound joy, and inspire the unfolding of every human's unique masterpiece."
Internationally recognized, Sandra has appeared on Anderson Cooper 360, Psychic Children: Their Sixth Sense, Good Morning America, and The Doctors for her intuitive gifts and work advocating awareness and understanding of highly sensitive individuals and "Indigo" children. Sandie continues to advocate for the awareness of highly sensitive children and adults, providing alternative resources and support that encourages integration, empowerment, and resilience in an intensely challenging and beautiful world.

Copyright © 2020 Sandie Bershad